All About Science
Intelligent Design Video
Watch this extraordinary video clip of mechanical and biological machines. See the fantastic complexity of life at the molecular level. Does it point to an act of random evolution or design? What do the triple PhD's and experts think about this?
Compliments of "Unlocking the Mystery of Life."
© 2002 Illustra Media. All Rights Reserved.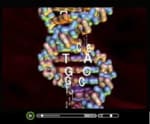 Explore These Two Videos and Go Deeper Now!

OR
Read the article on Intelligent Design Now!