All About Science
Dawkins and Religion Video
Randall Niles looks at Richard Dawkins and the growing argument against parents teaching their children certain religions. When will Christianity be deemed child abuse requiring government intervention?
Compliments of Randall Niles.
© 2009 ThinkWorks, LLC. All Rights Reserved.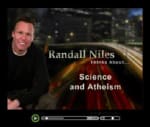 Explore These Two Videos and Go Deeper Now!

OR
Read the article on Richard Dawkins Now!