All About Science
Darwin's Theory Video
Stream a short video on this theory. See the incredible advances we've made in molecular biology, biochemistry, and genetics since Charles Darwin.
Compliments of "Unlocking the Mystery of Life."
© 2002 Illustra Media. All Rights Reserved.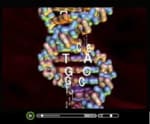 Explore These Two Videos and Go Deeper Now!

OR
Read the article on Darwin's Theory of Evolution Now!